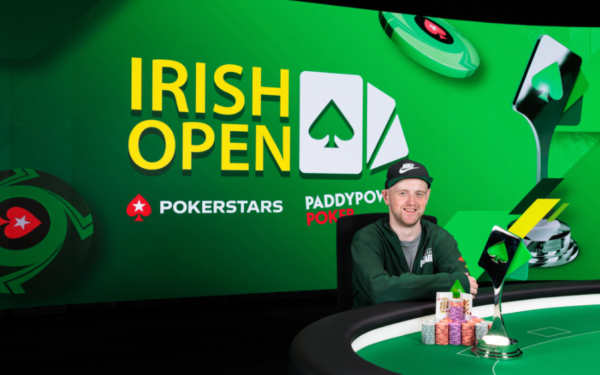 The full schedule for the 2024 Irish Open has been announced. Kicking off on March 25th and running through April 1st, the historic festival will host 35 events. Europe's oldest poker tournament will return to the Royal Dublin Society for the second straight year. Highlights of the schedule include the €1,000,000 guaranteed Irish Open Main Event and a new Mini Irish Open event featuring €500,000 in guaranteed prize money. The festival also sees The Hendon Mob Championship (THMC) return for the fourth time.
Irish Open has long been known for having a great selection of satellites and 2024 will have more than ever. With over 50 live satellites already scheduled, the team also secured partners for online satellites. The Irish Open has once again partnered with PokerStars and Paddy Power Poker to offer players from all over the world a chance to see the felt in Dublin.
2024 Irish Open Kicks Off With €500,000 Mini Irish Open
A brand new feature event will help get the festival underway this year as players arriving for the first day of the 2024 Irish Open will get the first crack at qualifying for Day 2 of the €500,000 guaranteed Mini Irish Open. The €200 event runs the length of the festival with eight flights leading to the final day on April 1st.
Starting stacks give 30,000 chips and levels are 20 minutes. Re-entry is unlimited until the close of registration.
€1,000,000 Guaranteed Irish Poker Open Main Event
There are four Day 1 flights for the €1,150 Irish Open Main Event. Day 1A gets underway at noon on Wednesday, March 27th. Day 1B follows on the 28th with two flights on the 29th. All Day 1 qualifiers will return for Day 2 on March 30th with the winner crowned on Day 4.
Players will start with 30,000 chips and 40-minute levels One re-entry is permitted per day and late registration will remain open for 10 levels on each Day 1. Click here for full details of the Main Event.
At the 2023 Irish Open, Scotland's David Docherty claimed the lion's share of a €2,428,725 prize pool after topping a field of 2,491 entries. Docherty scored a career-best €365,000 for the win joining the likes of Colette Doherty, Noel Furlong, Mickey Finn, Liam Flood, Joe Beevers, Neil Channing, Ian Simpson, Griffin Benger, and Steve O'Dwyer as Irish Open Champions.
2023 Irish Open Champ David Docherty
The Hendon Mob Championship & Irish Open Side Events
The Hendon Mob and the Irish Open have partnered to bring The Hendon Mob Championship Dublin to the festival for the fourth time. THMC will take its usual place in the Irish Open schedule as it has done since 2019, running on Tuesday, March 26th. Cards get in the air at 2 p.m. Entry is €250 with late registration open for the first eight 30-minute levels. Players begin with 25,000 chips and may re-enter one time. THMC has been a growing success within the Irish Open schedule hitting 238 runners in 2019, 332 in 2022, and 400 in 2023.
Other key events of the 2024 Irish Open are a €350 NLH Head's-Up event, €5,000 High Roller, €350 America's Cup, €250 Ladies Championship, a shortdeck event, PLO and NLH Mystery Bounty events, JP Poker Masters, and a Seniors Championship.
The schedule is full of satellites to many of the Championship events. Find all of the events listed on THM.
PokerStars & Paddy Power Return as Online Partners
The Irish Open has partnered up with major online poker operators including PokerStars and Paddy Power Poker. Both online sites will present numerous opportunities to satellite into the Irish Open for a fraction of the cost. Satellites will begin soon.
To find more details on all of the available opportunities click here.
Royal Dublin Society
The Irish Open 2024 will take place at the RDS located in the heart of Dublin City within walking distance of hotels, restaurants and bars. The RDS is synonymous with its 160,000 m2 campus in Ballsbridge, Dublin, Ireland. The premises include the 'RDS Arena', 'RDS Simmonscourt', 'RDS Main Hall' and other venues which are used regularly for exhibitions, concerts and sporting events like the Dublin Horse Show or as a playground for the Leinster Rugby team.
Hotel Booking 
Click here to Book Your Room to secure the best rates in Dublin near the venue
John Sommers is a distinguished figure in the world of gambling expertise, known for his deep knowledge and insightful analysis of the gaming industry. As a seasoned author, he has contributed extensively to the reputable gambling news site, TwinCasinos, focusing on providing valuable insights to English-speaking gamblers worldwide.
With a career spanning over a decade, John has honed his expertise in various aspects of gambling, from strategic gameplay to industry trends and regulatory developments. His articles are revered for their blend of comprehensive research, astute observations, and a knack for demystifying complex concepts for both novice and seasoned players.
Beyond his writing prowess, John has established himself as a trusted authority, often sought after for his expert commentary on the ever-evolving landscape of the casino and betting industry. His passion for responsible gambling and commitment to ensuring players make informed choices are evident in his work, making him a beacon of integrity in an industry that demands such values.
Whether you're a casual gambler or a dedicated enthusiast, John Sommers' contributions to TwinCasinos promise to be an invaluable resource for navigating the dynamic world of gambling.
Latest posts by John Sommers (see all)